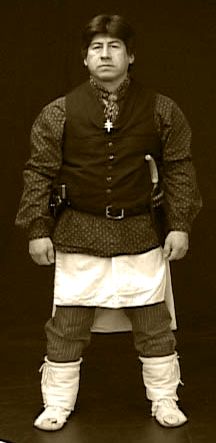 Robert Redfeather
Knife Seminarin CA.
Apache History
Apache Scouts
Knife Seminars
US. Military
Testimonials
School
Knife
Knife Fighting
Knife DVD
What's new?
Other Links
Guestbook
Association
SEMINAR PRICES
Fallen Warriors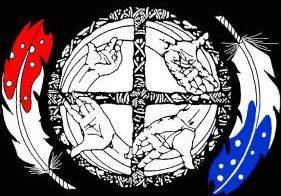 ©1996 Robert Redfeather.
You have noticed that everything that an Indian does is in a circle, and that is because the Power of the World always works in circles, and everything tries to be round....The Sky is round, and I have heard that the earth is round like a ball, and so are all the stars. The wind, in its greatest power, whirls. Birds make their nest in circles, for theirs is the same religion as ours....Even the seasons form a great circle in their changing, and always come back again to where they were. The life of a man is a circle from childhood to childhood, and so it is in everything where power moves.

"All things in the world are

(

naki-two

). In our mind we are

two

-- good and evil. With our eyes we see

two

things....things that are fair and things that are ugly....we have the right hand that strikes and makes for evil, and the left hand full of kindness, near the heart. One foot may lead us to an evil way, the other foot may lead us to a good. So are all things

two

, all

Naki

."
Robert Naki-Bésh Redfeather, being ( Mashgalé Ndee ) Mescalero Apache in 1980 sought out his relatives on the Mescalero and other Indian reservations in South Eastern New Mexico and Arizona. Redfeather was trained by his Grandfather in survival, and Nagondzoog (old term) Means War/Fight/Guerrilla Warfare, Nagonłkaadí Means War/Fight/Combat -- the unique Apache brand of guerrilla warfare. Both of these were made famous by the Apache realm of powerful War Chiefs such as Mangas Coloradas, Cochise, Victorio, and Geronimo, who was a Bedonkohe Apache Leader. In addition to his native culture, Robert Redfeather has been training in the martial arts for 48 years and is an 8th degree Black Belt. He has also been honored and inducted into several Hall of Fames across the country. Now with all this knowledge and life experiences, Redfeather is honored to pass it on through "Apache Knife Training Courses". He is also happy to pass along the history and traditions of his family and heritage, the Apache people. Redfeather, who teaches not from theory but from his life experience, is known for his training of our U.S. Military Troops, Police Officers, Native Americans, and anyone who has a desire to learn. A five-part certification course is available to enable you to teach "Apache Knife Training".
Those interested are Encouraged to Call For More Information: (714) 943-8127
"Nagondzoog-Nyol"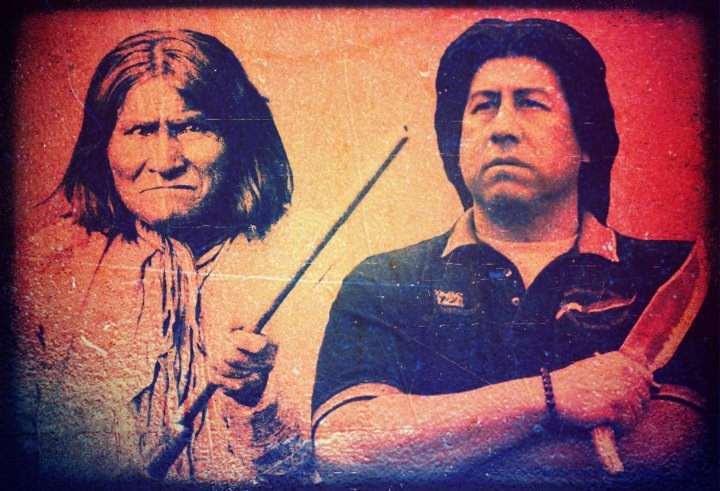 Apache Knife Founder By Robert Redfeather 1980
Apache Knife : A Way of Life http://youtu.be/UhRZ0rH36Ec

++ + + + + + + + + + + + + + + ++

The Apache Knife: A Way of Life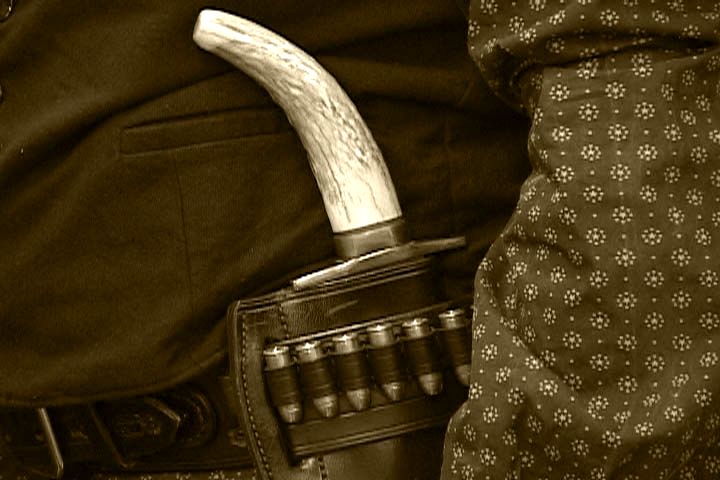 Yes, an Apache always has a lot of different blades on him for multiple uses. He'll holster them in different places and deploy them at different times. In close-range fighting, Apaches preferred the knife over any other weapon. Warriors and women alike always carried a knife, whether they used it around the camp, or for combat. In using the lance, war club, knife or empty-hands, the Apache warrior was extremely aggressive, but never to the point of recklessness. The Apache strategy in battle centered on overrunning and completely overwhelming the enemy. This tactic worked well (before firearms), as the Apaches were generally outnumbered. One warrior would most likely face several opponents. If the odds were too great, or if a chance for the entire war party to escape unharmed presented itself, the warriors would gladly retire. For life was, and still is, quite dear to the Apaches. The legendary skills and endurance of the Apache warriors have been documented through the testimonies of the soldiers who fought them.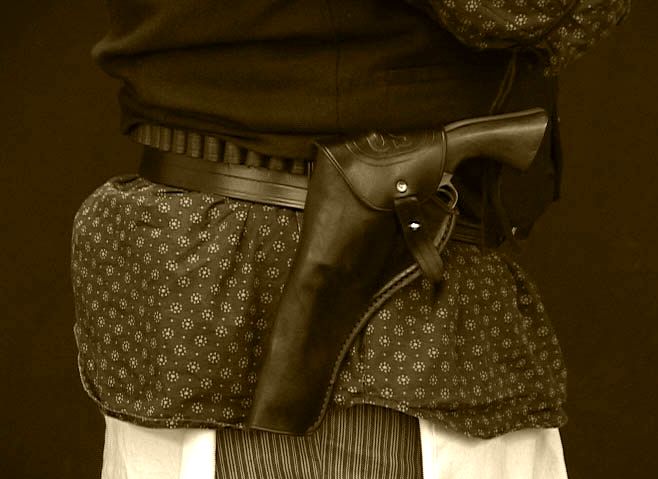 They even referred to them as the 'tigers of the human race' as they were deemed most ideally adapted to fighting in their rugged homeland. Warriors wore a shirt, breechclout, and moccasins normally reaching above the knee; they carried a rope, blanket, water jar, fire stick, rations of mescal or jerky, and their weapons. The Apache might employ a shield, bow, arrows, lance, club, Knife, and during the Apache Wars, a gun and cartridge belt. They also blackened their weapons to camouflage them. The Apache attitude toward pain was altogether different from that of the Mexicans and Americans. Pain was a fact of life and to endure it stoically and silently was the sign of good character. From early on, boys were taught how to endure pain. The Apaches, in contrast to the Plains Indians, applauded courage but derided heroics; their numbers were too few for fl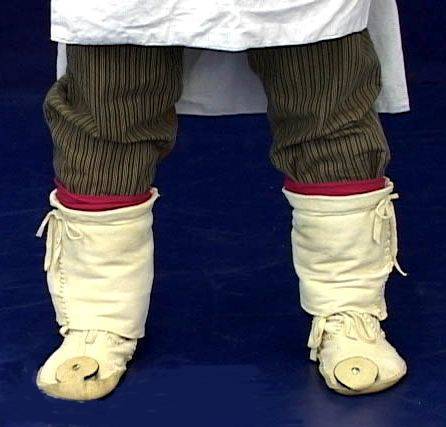 amboyant risks and needless loss of life. Stealth and caution were encouraged. However, when the Apache was wounded or cornered, there was no more ferocious adversary.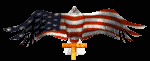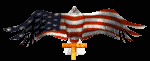 One of kinship. Daaats'i nihitiin iishjaa' ashleeh akoo hozhoniyee',
"May our journey together become beautiful."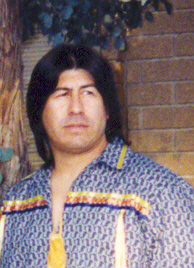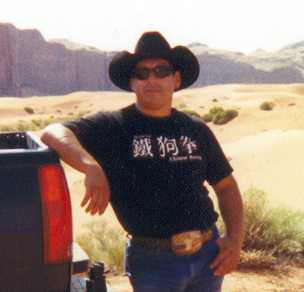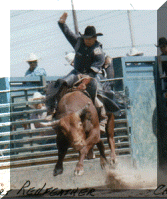 Enjoying another beautiful day on the Rez.
Robert Redfeather member of the Professional Rodeo Cowboys Association P.R.C.A.
Western States Indian Rodeo Association W.S.I.R.A.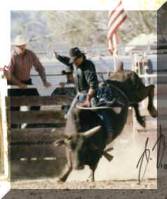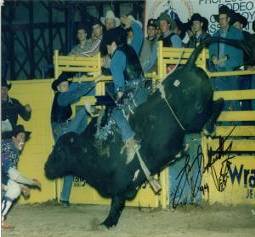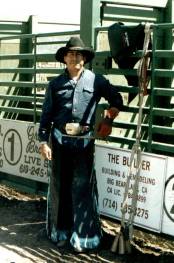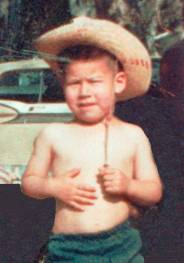 Kernville, C.A. Rodeo in 10-08-94 Las Vegas, NFR Rodeo 1994. Big Bear Rodeo Age 40.

ONCE A COWBOY ALWAYS A COWBOY.
"FAILURE IS ONLY TEMPORARY- QUITTING IS WHAT MAKES IT PERMANENT!"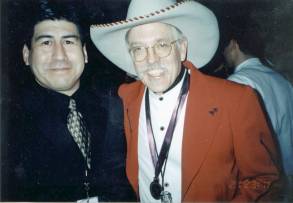 One Cowboy To Another.
Robert Redfeather and Too Slim's Mercantile
enjoying each others company at the Grammy party.
---
RED CLOUD 2013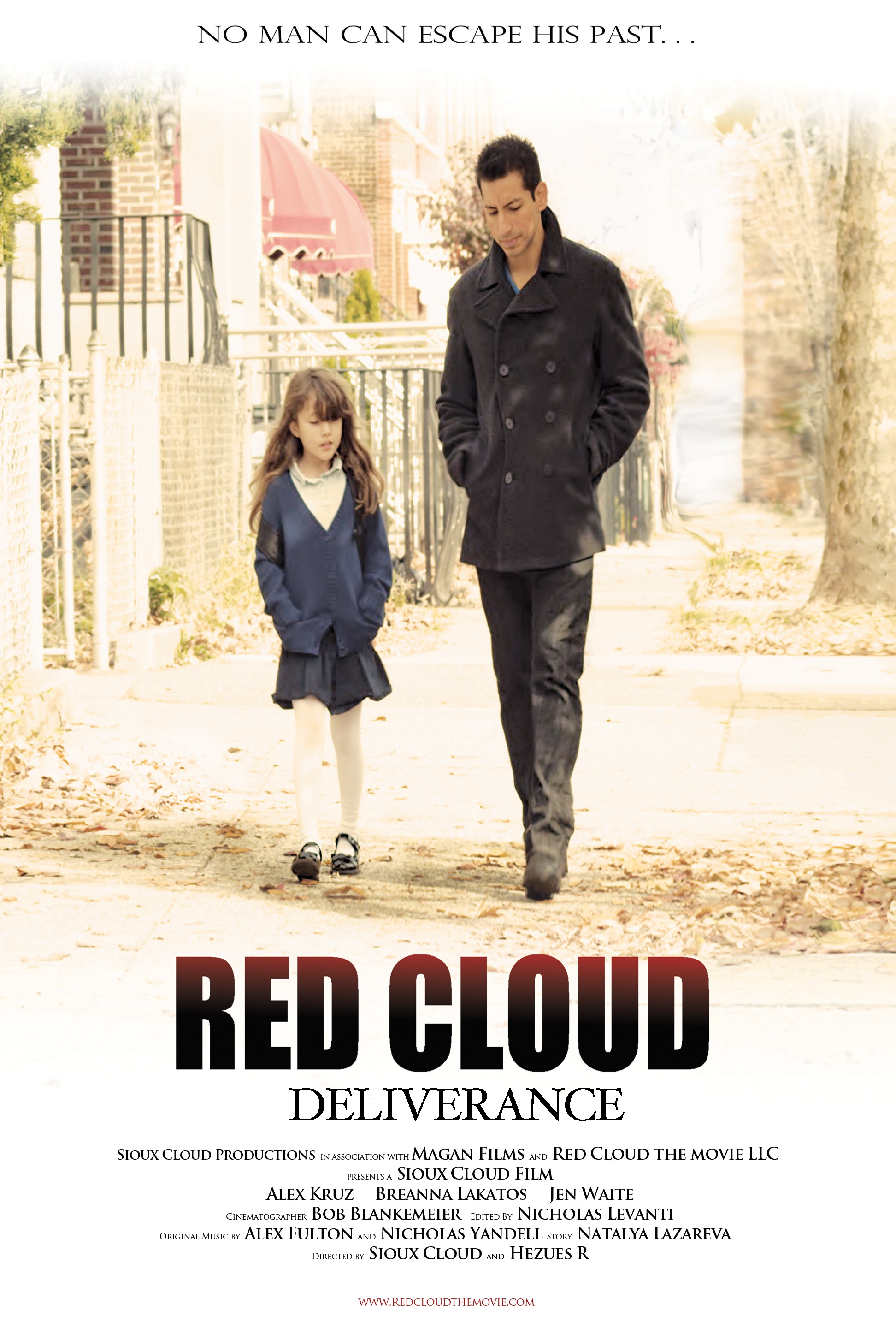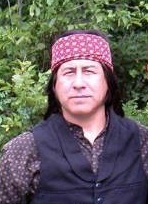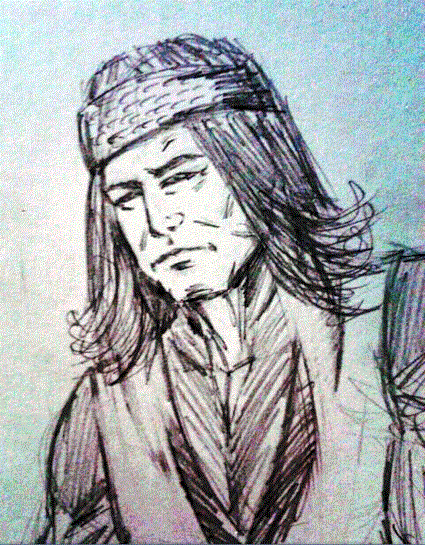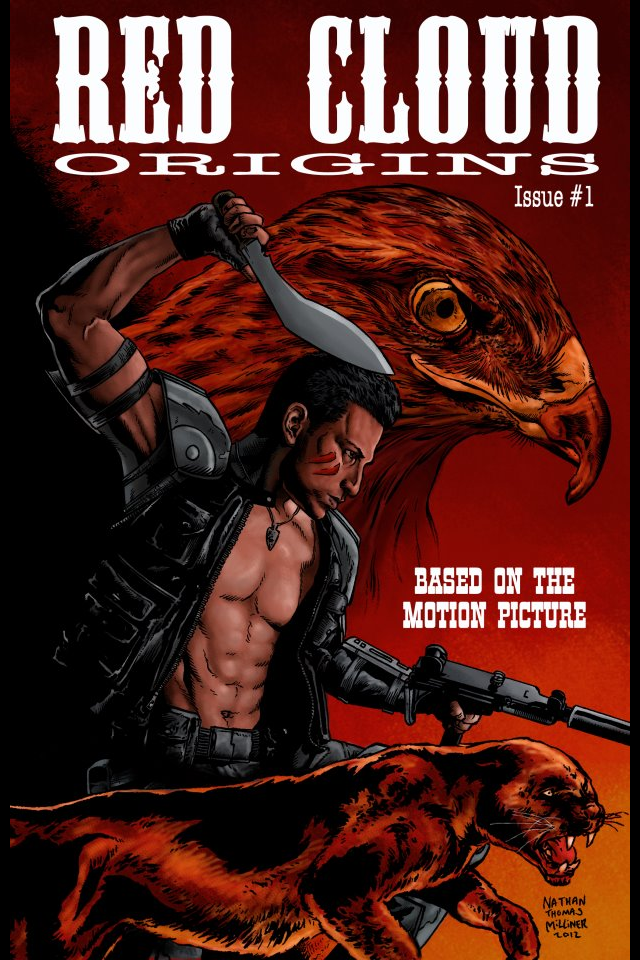 Robert Redfeather has been asked to play the role of "Uncle" in the "Red Cloud" comic book and upcoming feature scheduled for 2013. Robert has been acting as a technical advisor and associate producer on the award winning short "Red Cloud: Deliverance"
Jake Red Cloud, a contractor of Native American origin with a mysterious past develops a spiritual bond with Ann Parker. Ms. Jeannine Parker, Ann's mother, rents to Red Cloud to help supplement her lifestyle of cigarettes, alcohol, soap operas and bad boys.

When Ms. Parker's boyfriend gets out of line with Ann, Red Cloud steps in, finding something that has been missing within himself and gaining an unwanted physical obsession from Jeannine. The dynamic of the relationship between the three changes with dangerous results for all involved.

The film picks up a few years after Issues #1 and #2 of "Red Cloud" the comic book which were published with proceeds benefiting the Somaly Mam Foundation.



---
The Missing,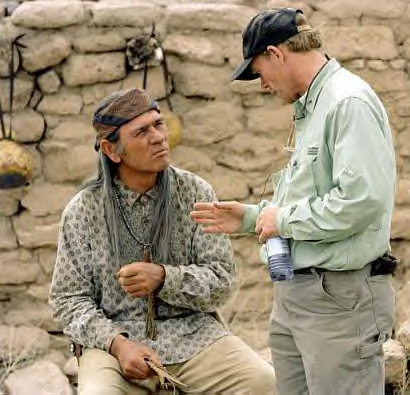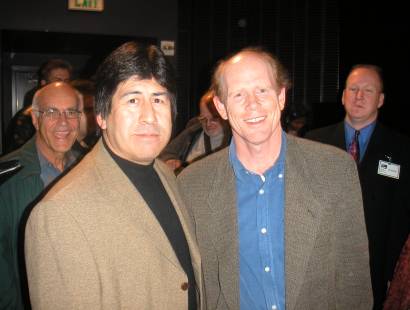 Acclaimed director Ron Howard was on hand for a screening of his new film, The Missing, at the American Cinematheque in Hollywood, CA. The Cinematheque is a non-profit organization dedicated to showing movies from all genres on the big screen. Their home base is at the classic Egyptian Theatre on Hollywood Blvd. Their guest of honor was Howard, who was on-hand for a mini tribute to his career as a director. 04, DEC.2003 Robert Redfeather and Ronald Howard Ron Howard at the American Cinematheque for The Missing
---
The 8th World Martial Arts Union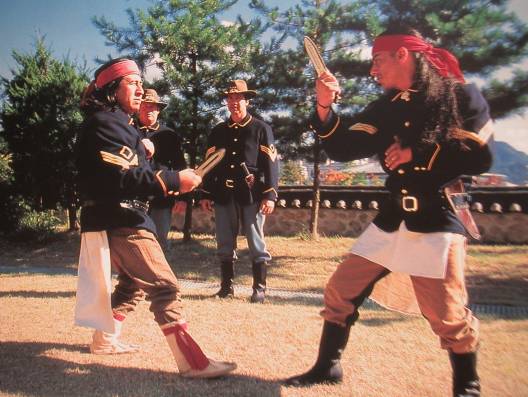 Apache Knife Scouts goes to Korea in Chungju World Martial Art to Represent U.S.
as the Old Fighting Arts and the Art of Nagondzoog and Nagonlkaadi-Nyol. U.S.A. Apache Knife Team 2004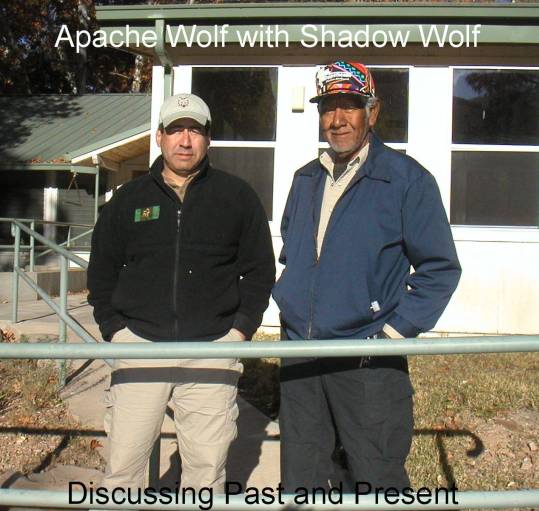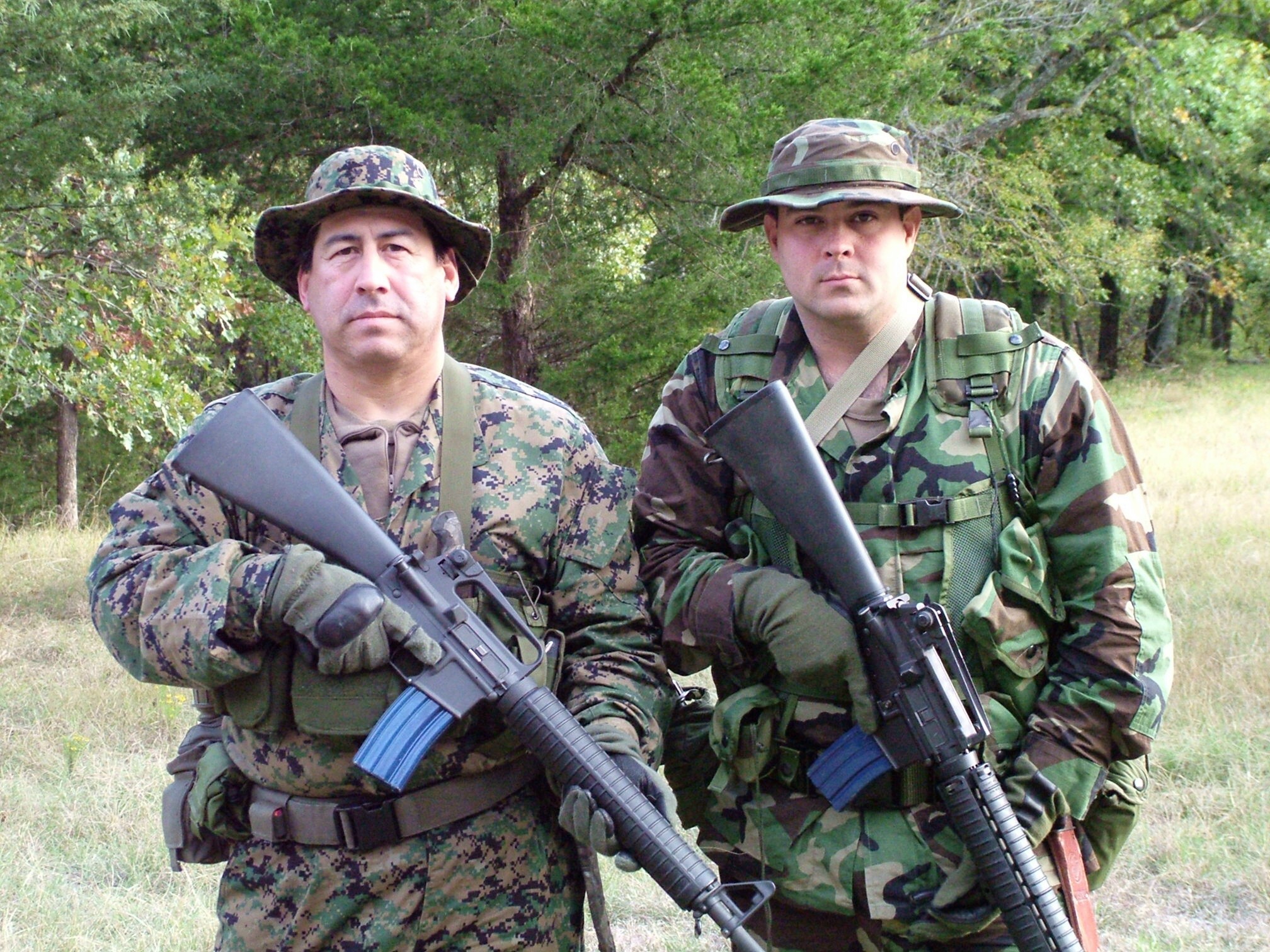 Robert Redfeather, Anthony Alvarado.
Apache Wolf Tracking Team.
Often, we in our profession may be called to look for lost persons, such as hunters or children who have wandered off. The basic techniques are the same. We can not teach tracking in the time frame set aside for this training. We can only teach the basic techniques which must be applied. For one to become an experienced tracker, will take years of experience and dilligent application of these techniques.
Click here for Apache Knife Combat Scouts
---
REV: TOSHIO KURAMOT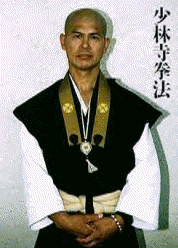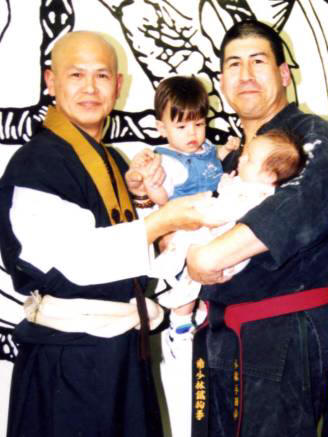 Click here for MASTER TOSHIO KURAMOT

---


MASTER TOSHIO KURAMOTO ' WILL NEVER BE FORGOTTEN...
JUNE 15, 1948 - MAY 24, 2007
---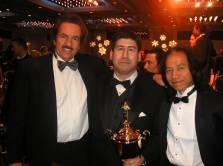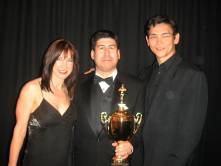 ACTION MARTIAL ARTS MAGAZINE'S
HALL OF FAME AND SPIRIT AWARDS BANQUET 2003
Bob Wall, Robert Redfeather, Eric Lee.
Cynthia Rothrock, Robert Redfeather, Don Wilson. Congratulates Robert Redfeather for his induction as
Outstanding Contributon to the Martial Arts as
a Grandmaster.

1.
Masters Hall of Fame
has inducted Robert Redfeather as the Pioneer Award of the year 2000.
2.
Has Inducted Robert Redfeather into the International Hall of Fame as the Master Instructor of the year 2001.
3.
WORLD HEAD OF FAMILY SOKESHIP COUNCIL has inducted Robert Redfeather into the International Hall of Fame
as the Distinguished Master of the year 2002.
4.
World Wide Masters Arts Hall of Fame HAS INDUCTED ROBERT REDFEATHER AS GRANDMASTER OF THE YEAR 2002
Alexandria Bay, New York
5.
Robert Redfeather was awarded combat award for teaching the U.S. Marine Corp close quarter combat knife training 2003
6.
2012. WORLD HEAD OF FAMILY SOKESHIP COUNCIL has inducted Robert Redfeather into the International Hall of Fame as
the Master of the year 2012
.
The Martial Arts History Museum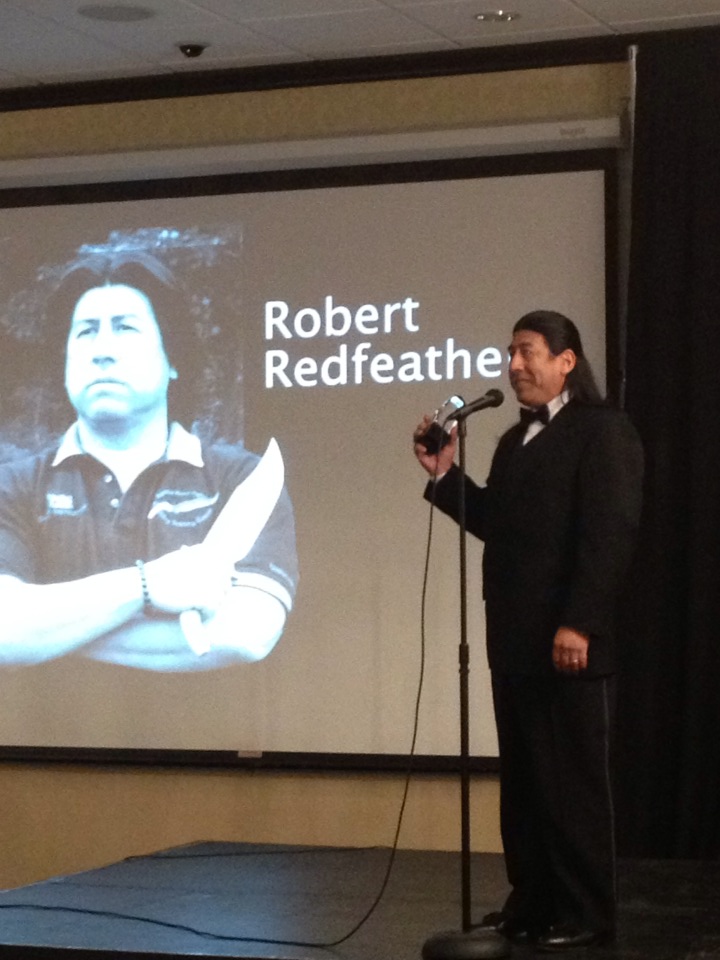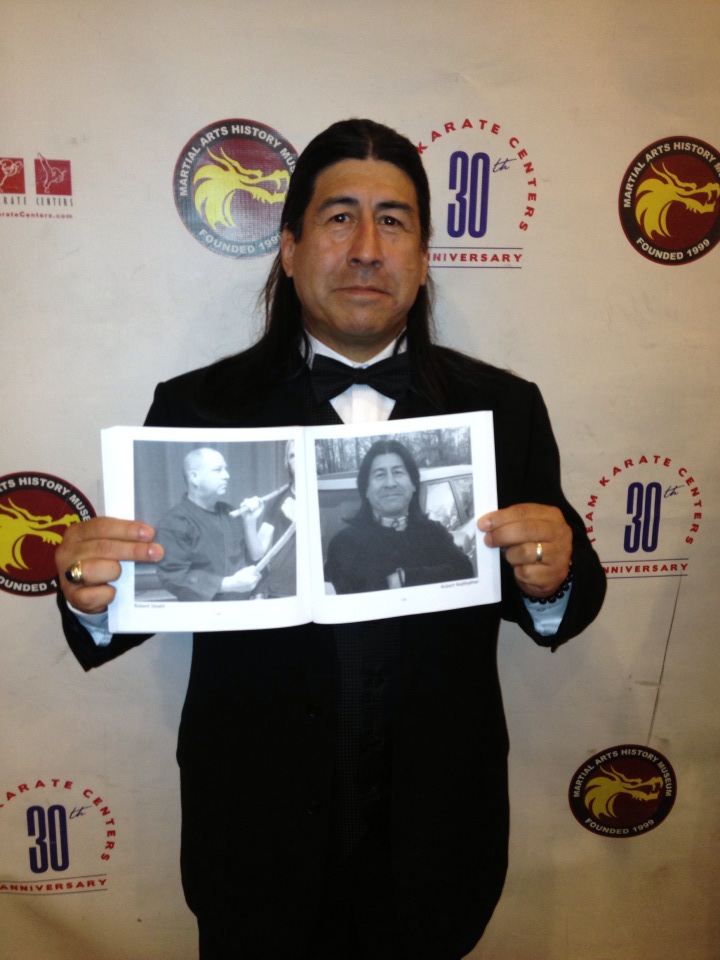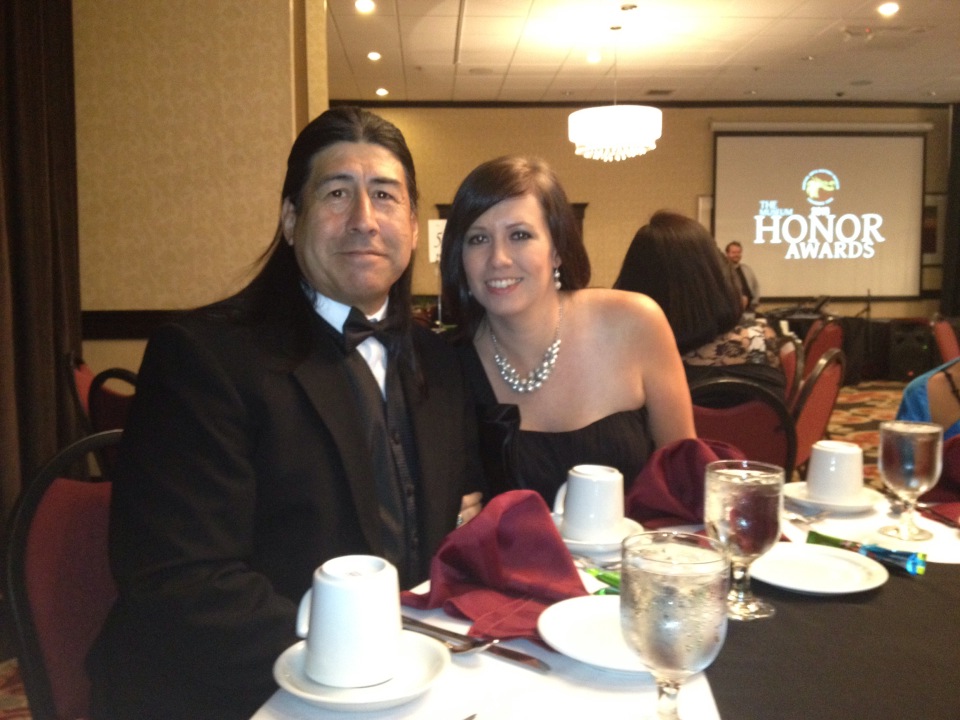 7. Robert Redfeather
Mescalero Apache Awarded into The Martial Arts History Museum for Apache Knife One of the Oldest Traditional Native American Art's in 2013
Martial Arts History Museum
2319 W. Magnolia Blvd.
Burbank, CA. 91506

www.MAmuseum.com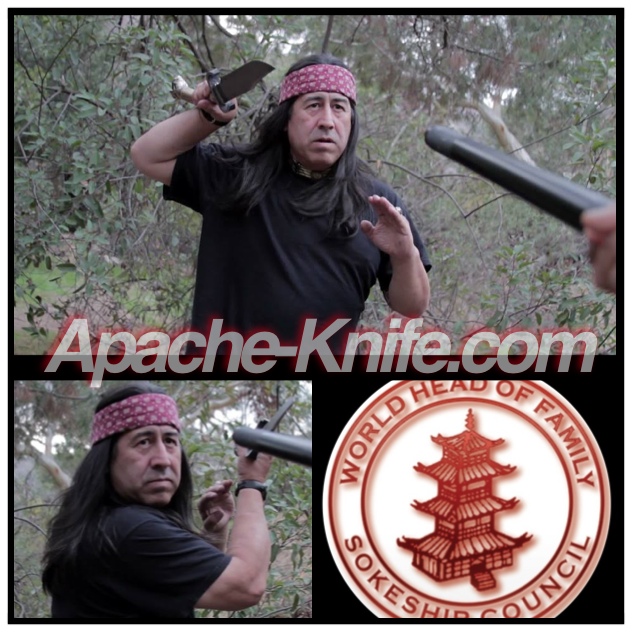 2014
GM: Robert Redfeather
Mescalero Apache Awarded into World Head of Family Sokeship Council on June 21, 2014
and Receiving the Title as GRANDMASTER for APACHE KNIFE One of the Oldest Traditional Native American Art's. I am so proud to Representing the Native American Indian Culture!
And Recognizing Native American Culture as a Fighting Art.
http://www.whfsc.com/
---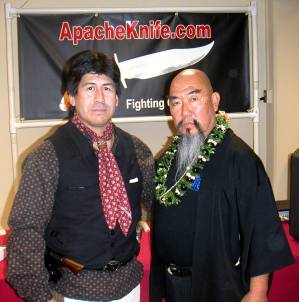 CHIEF

INSTRUCTOR

ROBERT REDFEATHER
GRANDMASTER GERALD OKAMURA DRAGON FEST 2003







Marc Denny,
Robert Redfeather, Eric
Knaus
Dog Brothers. Robert
Redfeather, Stephanie Cheeva,

TJ. Storm. Robert
Redfeather,
Oleg Taktarov.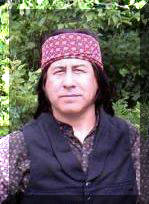 Robert Redfeather
ahéhe'e ( Thank you )
Mail Robert Redfeather 12340 Seal Beach Bl. Seal beach, CA. 90740

Dao Go Te' doo Hondah
Means to say It is good we meet and welcome.
---
All materials contained in this electronic domain are protected by copyright and trademark laws and may not be used for any purpose whatsoever other than private, non-commercial viewing purposes. Derivative works and other unauthorized copying of use of text, stills, graphics, or video footage, without prior written consent, are expressly prohibited.
Copyright © 1993-2014 Robert Redfeather. All Rights Reserved
Apache-Knife.com®