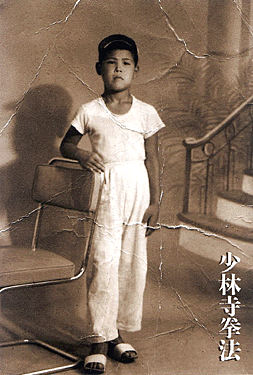 Even as a young boy, you could see the determination in his face and body language. This photo was probably taken in Saitama Ken, Japan and it really captures the true essence of who he was destined to become,........
Master Toshio Kuramoto-Sensei.
---
---
REV: TOSHIO KURAMOTO
---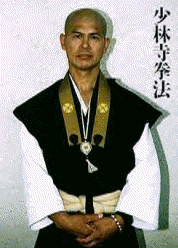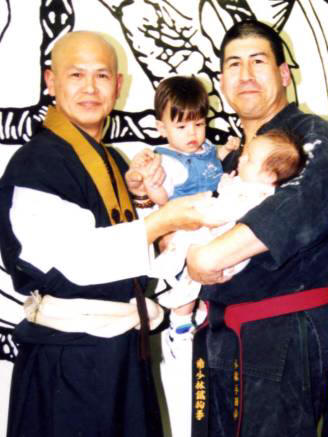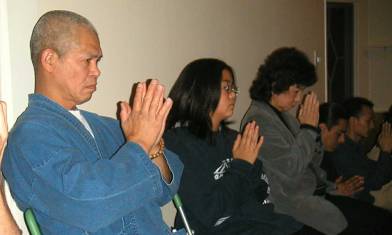 I miss this amazing man with all my heart. he taught me a lot in a very short time. I was Very Proud to have him as my Sensei and Brother. I regret not being there for the family my love goes out to Missus Kuramoto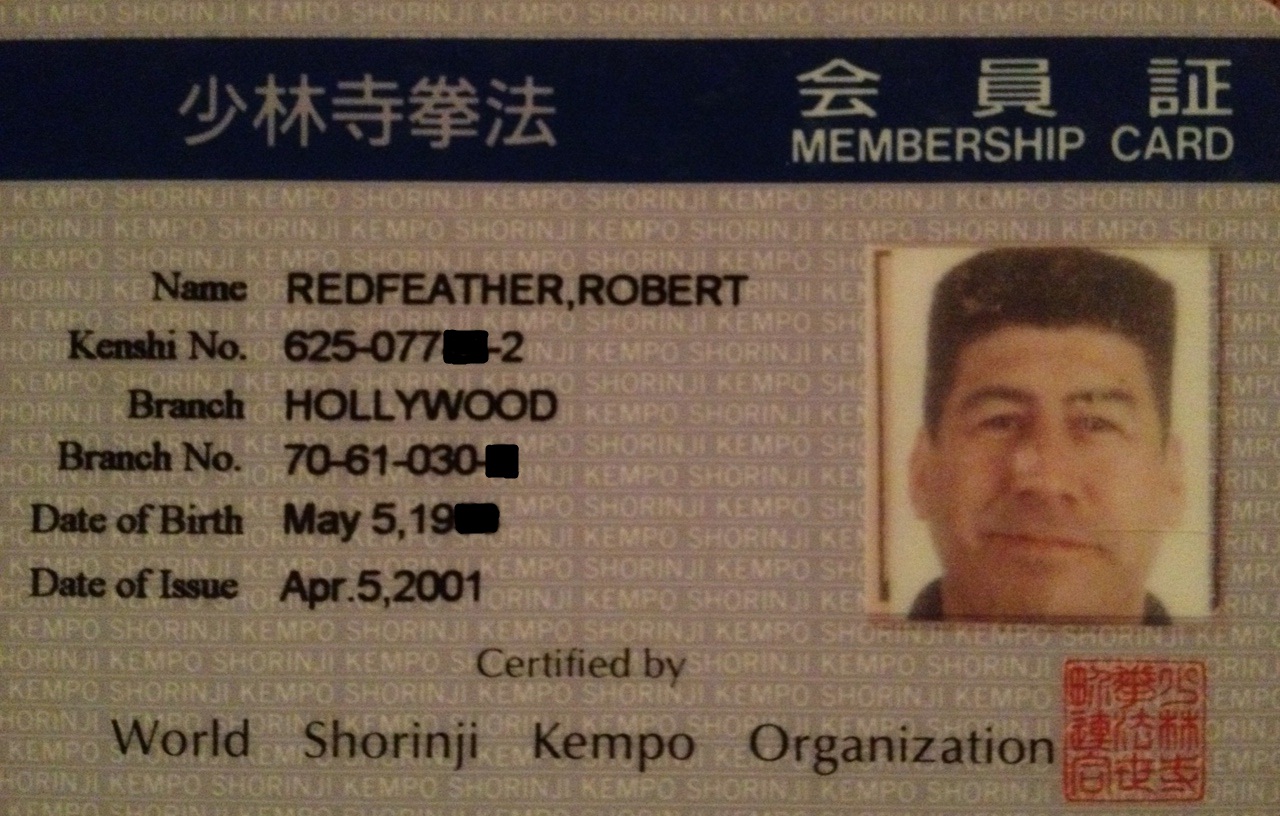 Yes I was a Student and Most Importantly Master Toshio Kuramoto was My Mentor!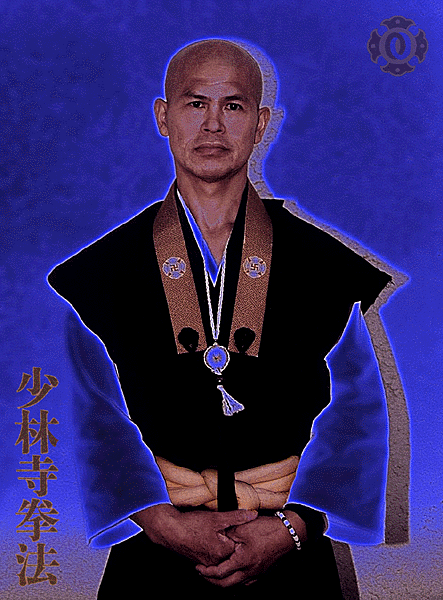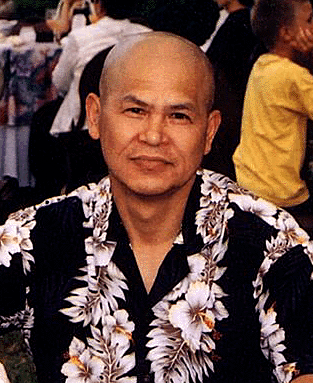 Master Toshio Kuramoto was featured in many articles that gave Shorinji Kempo an abundance of much-needed publicity here in the United States and Canada. The Black Belt Magazine (2002) featuring Kuramoto-sensei on the cover marked the very first time that Shorinji Kempo had ever been featured on the magazine's cover and only the second time a major Shorinji Kempo feature article had ever been published in Black Belt. The other article appeared 29 years ago in the June 1979 issue and it also featured Kuramoto sensei with two other senseis. He appeared in two major, full-color feature articles in Martial Art Magazine (2002 & 2003) and was seen on the covers of Classical Fighting Arts (2005) and Dragon Times (2005). In 2005 he was promoted to 7th Dan Black Belt and also received a Commendation Award for his outstanding community service for the benefit of all citizens of Los Angeles County, and it was signed by the Mayor of Los Angeles County, Mike Antonovish. In 2006 Kuramoto-sensei was elected to the position of representative of the World Shorinji Kempo Organization for the United States. In the same year, he was also appointed to the Los Angeles Police Dept. as an Arrest and Control Advisory Member and a member of the Citizen Martial Arts Panel. He was the very first Japanese citizen ever offered this position. In 2006 he was also awarded a Special Appreciation Award from the City of Los Angeles 4th Dictrict Council members, for his incredibile contributions and continuous expertise in the development of the Los Angeles Police Dept.'s Defensive Tactics and Arrest and Control program. A man of extraordinary determination, Kuramoto-sensei practiced and taught Shorinji Kempo for 38 years. He was also an ordained Zen Buddhist priest Gonchudoshi, of the Kong-Zen Sohonzan Shorinji Temple in Shikoku, Japan. He was a very respected and well-known Zen Acu-Therapist and had several celebrity clients. Sensei founded two Shorinji Kempo dojos in the Los Angeles area (Hollywood Dojo and Industry Sheriff's Dojo) and he trained four times a week in two dojos and also taught many students privately at his home dojo. Sensei dedicated his life to the teaching of Shorinji Kempo for the betterment of society.
---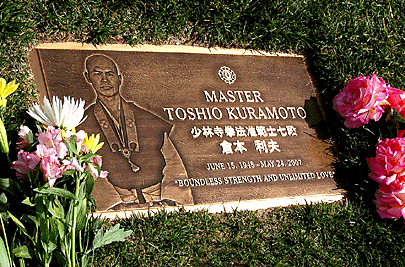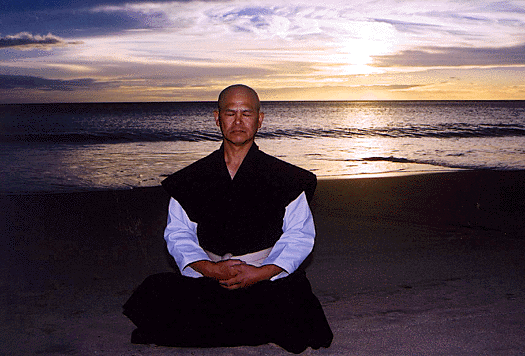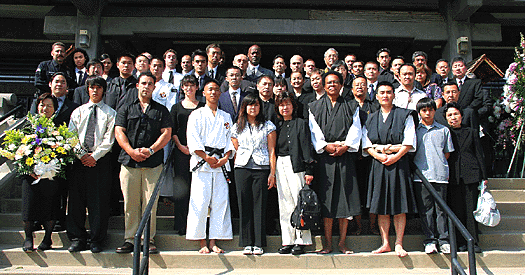 Kuramoto-sensei's funeral at Higashi Hongangi Buddhist Temple in Little Tokyo, downtown L.A.. The funeral was held on Saturday June 2nd, 2007. Family members, martial arts students, friends, city officials, policemen, SWAT team members and Shorinji Kempo branch masters, all came to pay their respects. The majority of the people in this photo received their Black Belts from or trained with Kuramoto-sensei. The service was both a Shorinji Kempo ceremony (which included embu), as well as a traditional Buddhist service. Inside the temple, it was standing room only.
---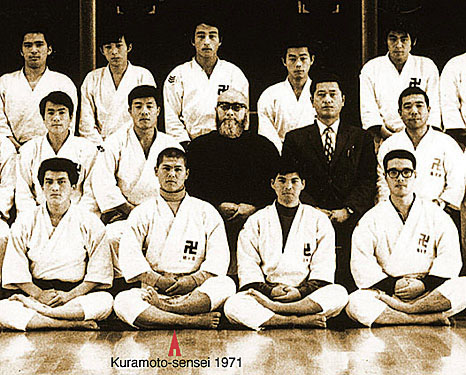 Kuramoto-sensei sits with Shorinji Kempo founder, Doshin So and classmates at
World Shorinji Kempo headquarters in Tadotsu, Japan 1971.
NOTE:
For those of you who are not familiar with the Manji symbol and its use in Buddhist history, please do not confuse it with, or mistake it for, the swastika! The Manji has been used for over two millenniums in Buddhism and is found in Buddhist temples and in Buddhist works of art throughout China, Japan and S.E. Asia. The symbol and its use originated in India and it has been used for different meanings by many different cultures since pre-historic times. In Japan the Manji is a common Buddhist symbol found in temples and on maps to show the locations of Buddhist temples. Shorinji Kempo students in Japan wear the Manji symbol on their gi because of its Buddhist connotations and because Shorinji Kempo seeks to follow in the traditions of the original Shaolin Temple in China. Because of the symbol's negative connotations in Western societies, Shorinji Kempo students in the West, wear a different symbol on their gi. We want to make it absolutely clear that Shorinji Kempo and its Buddhist Manji symbol have no connection whatsoever, to the Nazi swastika.
---
MASTER TOSHIO KURAMOTO
JUNE 15, 1948 - MAY 24, 2007


Will Never Be Forgotten...



Dao Go Te' doo Hondah
Means to say It is good we meet and welcome.
---
All materials contained in this electronic domain are protected by copyright and trademark laws and may not be used for any purpose whatsoever other than private, non-commercial viewing purposes. Derivative works and other unauthorized copying of use of text, stills, graphics, or video footage, without prior written consent, are expressly prohibited.
Copyright © 1993-2014 Robert Redfeather. All Rights Reserved
Apache-Knife.com®